Whether you live seaside or simply dream of the beach, a coastal-themed kitchen can evoke a sense of peace and relaxation, reminiscent of a beach vacation. With a few strategic decor decisions, you can infuse your kitchen with the colors, textures, and spirit of the sea. This article will guide you through the process, with tips and tricks to transform your kitchen into a coastal paradise.
Harness the Power of Color
Color plays a vital role in setting the mood and tone of any space. To achieve the desired coastal vibe, consider using hues inspired by the sea. Palette choices should reflect the colors of the beach: soft blues of the ocean, warm beige of the sand, and delicate off-white seashells. Perhaps add a dash of coral or sea green as an accent color for that extra splash of oceanic charm.
You might consider a light blue accent wall for a pop of color. Alternatively, use your kitchen accessories as color statements. For instance, a set of blue ceramic canisters or a row of vibrant, sea-themed plates displayed on an open shelf can be impactful. In fact, your rattan dining chairs, painted in a soft seafoam green or left in their natural state, can perfectly echo the seaside ambiance.
Embrace Natural Elements and Textures
Just as the coastal environment is rich in texture, from the grainy sand underfoot to the rough surface of seashells and the smooth pebbles on the beach, your kitchen can incorporate these natural, tactile sensations. Materials like rattan, bamboo, and reclaimed wood are great for evoking the rawness of nature, and they can be used in your kitchen in a variety of ways.
Consider rustic wooden countertops or a reclaimed wood island to bring a touch of the outdoors in. Flooring in a light wood or natural stone finish can also lend an air of coastal living. The incorporation of natural elements is key to achieving a soothing, beach-like environment.
Incorporate Nautical-Themed Accessories
Nautical-themed accessories can also play a significant role in giving your kitchen a coastal vibe. These elements can range from a large centerpiece, such as a boat-shaped shelf, to smaller accents like shells, sea glass, and other marine-themed items. Even the choice of light fixtures can reflect this theme; think about installing pendant lights that resemble vintage lanterns from a ship.
A tip here is to avoid overdoing it with the nautical accessories. The aim is to subtly hint at the seaside theme without overwhelming the space with kitschy or overtly beach-themed items. Remember, less is more when it comes to accessorizing your coastal kitchen.
Choose Light and Airy Window Treatments
A coastal kitchen should embrace natural light, echoing the sun-soaked beaches and open skies of the coast. Avoid heavy, dark curtains or blinds and instead opt for light and airy window treatments. Materials like linen, cotton, or bamboo in light colors and simple designs can work beautifully. These will allow the sunlight to filter in and create a bright, welcoming space.
If privacy isn't a significant concern, you may even consider leaving your windows bare. This would not only maximize the amount of light entering the room but would also highlight any views you might have, further enhancing the coastal vibe.
Make Use of Open Shelving
Open shelving is another element that can contribute to the coastal vibe in your kitchen. This approach gives a light, breezy feel and creates opportunities to display beach-themed accessories. Arranging your dinnerware and glassware on open shelves can mimic the casual, open feel of a beach cottage.
Opt for wooden or white-painted shelves to keep the look consistent with your color palette. If you have a collection of beach glass or seashells, these can be placed in glass jars and displayed on the shelves for a unique, coastal-themed decorative touch.
Opt for Light and Simple Furniture
When it comes to choosing furniture, think light, airy, and minimal. Coastal style is all about creating a sense of openness and easy living. Choose pieces in natural materials and light, muted colors to maintain the beach-like feel. Furniture with a slightly weathered finish can also add to the rustic, laid-back coastal vibe.
A large, rustic wooden table can serve as a perfect centerpiece for your coastal kitchen. Complement this with rattan dining chairs or light-colored wooden stools. If your kitchen includes an island, consider stools with linen or cotton slipcovers in a soft, sandy color for a comfortable and inviting look.
Use Coastal-Inspired Artwork and Wall Decor
Artwork and wall decor can be an excellent way to enhance the coastal vibe in your kitchen. Consider artwork depicting beach scenes, seascapes, or marine life. A large, ocean-inspired canvas can make a beautiful focal point, or a series of smaller framed prints can create an engaging gallery wall.
Wall art could also include items like a decorative ship's wheel, an antique nautical map, or a wall-mounted wooden oar. Even a simple, rustic sign with a beach-themed quote can add a touch of coastal charm.
Incorporate Coastal Fabrics and Textiles
Textiles are another great way to introduce coastal elements into your kitchen. Table runners, placemats, dish towels, and aprons in beach-themed prints can add a splash of seaside color and pattern. Opt for fabrics in natural fibers like cotton or linen, which are not only sustainable but also have a casual, textured look that fits perfectly with the coastal theme.
Curtains or cushions in a nautical stripe pattern can also contribute to the seaside vibe. Alternatively, choose fabrics in a subtle sea life print, featuring motifs like shells, starfish, or coral, for a softer, more sophisticated look.
Add Coastal Scents to Your Kitchen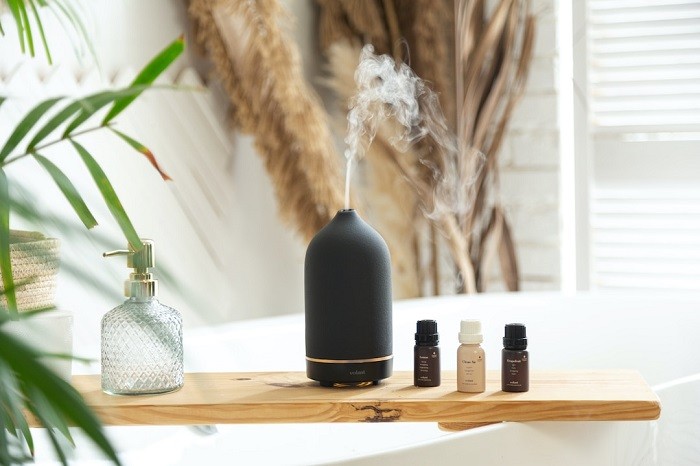 The coastal experience isn't just about visual elements; it also involves other senses. You can further evoke the seaside ambiance by incorporating coastal-inspired scents into your kitchen. This could be as simple as a scented candle or diffuser with a fragrance like an ocean breeze, fresh linen, or coconut.
You could also consider using natural elements to bring the smell of the sea into your kitchen. A bowl of dried lavender, rosemary, or eucalyptus not only adds a lovely aroma but also creates an attractive rustic display.
Create a Coastal-Inspired Dining Experience
Finally, don't forget to carry the coastal theme through to your dining experience. Start with tableware in ocean hues or with subtle beach-themed designs. Natural material placemats and napkins, perhaps with a simple shell or starfish motif, can complement this nicely, as can a rattan dining set.
For a truly coastal feel, consider serving dishes that evoke a beach picnic or seafood feast. Think rustic wooden serving boards, large shell-shaped serving bowls, or galvanized metal buckets for serving chilled drinks.
A Finishing Touch to Your Coastal Kitchen
Turning your kitchen into a coastal paradise involves more than just selecting the right color palette and furniture. It's about capturing the essence of the coast – the casual openness, the warmth, the natural textures, and the invigorating feeling of being near the water. Remember, each of these tips is just a starting point. Your coastal kitchen should reflect your own personal style and the specific elements that you love about the beach.
Whether you choose to paint your walls in sea-inspired hues, use rattan dining chairs for a touch of the natural, or adorn your shelves with carefully selected beach-themed accessories, your kitchen can become a place of tranquility, reminiscent of the calming coastal landscape. With these tips, your kitchen will not only have the coastal vibe but also embody the relaxed and welcoming spirit of beach living. Enjoy your journey of bringing beach vibes to your kitchen, one wave at a time.