If you're a bride looking to break away from the traditional all-matching bridal party look, you're in luck! Mixing up colors can add depth and drama to your wedding, and there are plenty of creative ideas on how to do it. In this blog post, we'll talk about some helpful tips and ideas on how to mix and match colors to achieve a beautiful and unique look for your big day.
Section 1 (Have a Color Scheme in Mind)
First, it's important to have a color scheme in mind. This means selecting a set of colors that complement each other and fit with the overall theme and style of the wedding. Consider the colors of the flowers, decorations, and other wedding elements when deciding on a color scheme for the bridesmaid dresses.
For example, if the wedding has a rustic theme with earthy tones like green and brown, you could opt for bridesmaid dresses in shades of different sage hues and neutral colors. Alternatively, for a classic and timeless look, you could choose different hues of blues for an elegant touch.
Do you want each bridesmaid to wear a different color or do you want to alternate the colors in a specific pattern?
Section 2(Think About the Season)
Another important factor to consider when mixing up bridesmaid dress colors is the season. Different seasons evoke different color palettes, and choosing dresses that align with the season can create a cohesive and visually pleasing look.
For example, in the spring, pastel colors such as blush, lavender, light blue and mint can create a fresh and airy feel. In the summer, brighter and bolder colors such as coral, hot pink, turquoise, and yellow can bring a fun and playful vibe. For the fall, deeper and richer tones like burgundy, rusted colors, cinnamon, and emerald green can evoke a sense of warmth and coziness. And in the winter, metallic shades like gold, silver, and rose gold can add a touch of glamor and sophistication.
Season doesn't mean that you have to stick to some specific colors. Instead, use it as a starting point and feel free to mix in other colors that complement the season. For example, if you're having a winter wedding and want to include some pastel shades, consider pairing them with metallic accents or rich jewel tones to create a balanced and cohesive look.
Section 3(Get Inspiration from Pinterest)
There are a huge variety of real wedding photos and bridesmaid styles on pinterest. Create a board specifically for bridesmaid dresses and start pinning ideas that catch your eye. You can search for specific color combinations, and see how other brides have successfully mixed and matched those colors.
When browsing Pinterest, pay attention to the little details, such as the bouquets, makeups, hairstyles, and centerpieces in the photos. These can offer additional ideas for incorporating colors into your wedding. You can also search for specific wedding themes, such as rustic or beach, to get an idea of which colors work well together in those settings.
Share your board with your squad and ask for their feedback. They may have ideas or preferences that you hadn't considered before. 
Section 4(Perfect Color Combinations Recommendations)
Here are some recommendations for perfect color combinations that can help you create a cohesive and amazing bridal party:
Blush to Burgundy: This light to dark combination includes blush, dusty rose, desert rose, cinnamon rose, cinnamon, rusted color, and burgundy. It is a classic and timeless choice. The ombre from soft blush tone pairs perfectly with the hues and to the deep, rich burgundy shade, creating a warm and welcome look.
Light Blue to Navy: If you're looking for a combination that's both elegant and romantic, try pairing the different blue hues together. These amazing combinations include light blue, steel blue, sea glass blue, dusty blue, slate blue, and navy. There is a soft and pastel hue, muted vibe, as well as deep color, creating a beautiful contrast that's perfect for a fall or winter wedding.
Pastel Green, Sage and Dark Emerald: If you're looking for a color combination that's both earthy and feminine, this green series is a great choice. From the soft pastel green, muted sage green bridesmaid dresses and eucalyptus green bridesmaid dresses, to the rich dark emerald, creating a fresh and natural look that's perfect for a garden, forest, rustic, or outdoor wedding. This color combi from eDresstore will give you a fresh inspiration, from their more than 120 color choices, you can surely pick the perfect ones!
Neutrals Combi: For a classic and timeless look, consider pairing taupe, tan color, champagne and ivory. The soft, warm tones of neutral hues create a beautiful contrast that's perfect for a traditional wedding.
Lavender, Mauve, to Plum: If you're looking for a combination that works for all seasons, this purple team will be perfect. It starts from the pastel and soft lavender tone, passes through muted mauve, to the dark plum,  creating a noble and elegant atmosphere that's perfect for weddings in any season.
Mixing up bridesmaid dress colors is all about creating a look that's unique and reflects the personal style of each of your squad and vision for your wedding day.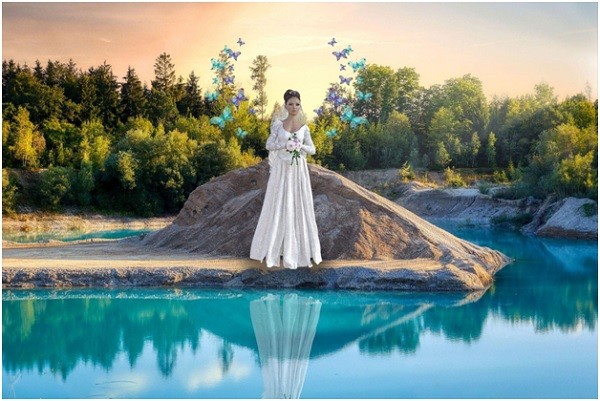 Section 5(Ask Your Maids What They're Comfortable Wearing)
The key to keeping everyone happy and feeling confident in their dress is to ask your maids what colors they're comfortable wearing.
You can start by creating a list of colors that you have in mind, and then ask your bridesmaids to select their top three preferences. Make sure to keep their skin tones, hair colors, and body shapes in mind when selecting colors and styles. For example, pastel shades such as blush or lavender may complement fair skin tones, while deeper shades like emerald or navy may look better on darker skin tones.
It's also important to consider your bridesmaids' personal styles. Some may prefer bold and bright colors, while others may opt for more subdued or understated tones.
Another way to accommodate your bridesmaids' color preferences is to mix and match dress colors within a similar color scheme. For example, if your color scheme is blush and gold, you can mix and match different shades of blush, such as light pink and dusty rose, or incorporate metallic gold accents into the dresses.
By following our tips, we are 100% sure you can create a cohesive and visually stunning bridal party while making everyone feel their best on your big day.